LED Signs
Promote products, events and services with our Brisbane and Gold Coast LED signs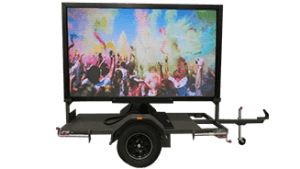 ETC Hire's Brisbane and Gold Coast LED signs are used for a wide range of applications, from traffic control through to advertising products, events and services.
The Australian-made LED billboards effectively capture the attention of passing traffic 24/7, which make these a cost-effective advertising investment. Our signs have a wide range of capabilities from displaying still images and videos through to live streaming.
Our LED billboards come in P10 and P5 (pixel) options, giving you the freedom to choose the picture quality which best suits your advertising content.
The LED signs are trailer mounted on a mast that's 3 metres high, for simple and easy transportation. Due to the height and superior picture quality of our signs, these can be viewed from up to 100 metres away.
Features and benefits of our Brisbane and Gold Coast LED billboards include:
With a viewing distance of up to 100 meters and eye-catching, high definition screen, the LED signs offer far greater audience impact than simple text signage. When you hire one of our Brisbane or Gold Coast LED billboards, we can arrange any message changes you require remotely, regardless of the board's location. The signs are also fully mobile and suitable for all weather conditions.
Contact us today on 1300 382 447 for all your traffic control equipment hire needs!