Radar Speed Signs
Put safety first with our Gold Coast radar speed signs and traffic management hire equipment!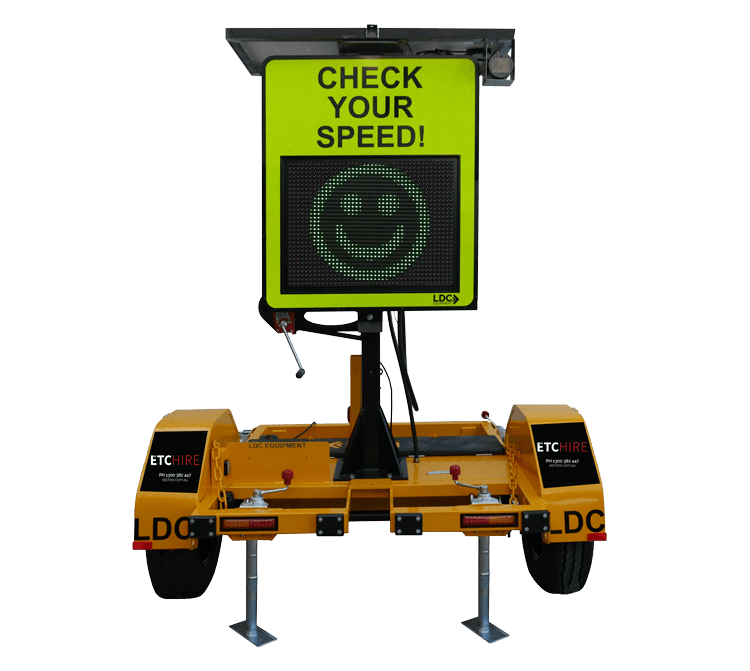 ETC Hire has affordable, Australian-made Gold Coast radar speed signs available for hire locally and throughout Brisbane and surrounding regions. We also operate on the Sunshine Coast and throughout Byron Bay, Northern Rivers and Northern New South Wales. The solar radar speed sign has a high resolution LED screen mounted on top of an easily transportable trailer. ETC Hire's solar radar speed signs are 100% powered by natural energy, so there are no ongoing running costs, making these a cost-effective and environmentally friendly solution to reduce driver speed.
In conjunction with controlling traffic speed through automated signs, the radar speed sign has also been designed to record drivers speed. This valuable data  can be used to determine if  traffic lights or other traffic control equipment is needed on a permanent basis. This automated model was designed and built to improve the safety of both road workers and motorists and is tailored to the needs of Australian road users. As a result, our radar speed signs are hugely popular in the Gold Coast and Brisbane traffic management hire market.
Applications of radar speed signs on the Gold Coast and Brisbane
Radar speed signs are designed to detect the speed of passing vehicles and display the corresponding message on the screen for the person in the vehicle to see. If the vehicle is travelling at a faster rate than the speed limit, the LED sign will appear with a "sad face" plus the relevant speed limit, followed by a "slow down" message to remind drivers that they need to reduce their speed. In contrast, the sign will display a "smiley face" if the vehicle is travelling at the correct speed limit or less.
Creates driver & general public awareness
Reduces the speed of traffic
Prevents potential accidents in high risk areas
Protects drivers & pedestrians
Perfect for roads that often experience speeding vehicles
Why ETC Hire's radar speed signs are unique for traffic control equipment hire 
100% Australian designed and made
Small, compact trailer for instant set-up and easy transportation
Up to 2 individual trailers can be towed in tandem at one time
Lightweight, easy for one person to move
Records and stores time-stamped speed records
Reset speed recording simply via hand controller
Standard Features of Radar Speed Signs
Solar powered
Built-in diagnostics (radar, power, speed limit selector etc.)
Fully automatic brightness control
Powerful, low power 32-bit processor
Passive cooling (no fans)
Ultra low current draw
Wide range of selectable speed limits (10 to 110km)
Time-stamped speed records
Real time clock & calendar
Over/under speed report
2 x display modes (speed limit, traffic speed)
7-Colour (RGB) LED Display
Desktop utility to retrieve events
100,000+ hours LED lifespan
Total viewing angle of 120 degrees
Suitable Uses of Radar Speed Signs on the Gold Coast and Brisbane
Private & public roads
State government roads
School zones & surrounding roads
Suburban areas
Traffic control areas
Road work sites
Construction sites
Places where traffic management hire equipment is required
Contact us today for a competitive quote on our Gold Coast radar speed signs and traffic control equipment for hire. Find out more about our signs by checking out our blog via: https://bit.ly/2TZrNFR