Solar Lighting Tower
ETC Hire is the Gold Coast and Brisbane's Number One Choice for Lighting Tower Hire!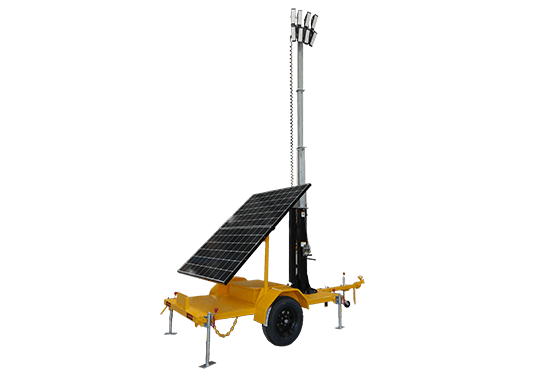 Introducing our brand new Solar Lighting Tower (SLT): A 100% Aussie engineered device that harnesses the power of the sun, which means zero ongoing costs when it comes to power. The SLT is self-sufficient and will operate night after night without noise, petrol, or ongoing servicing. If you are after lighting towers, ETC Hire's solar lighting towers are the smartest choice for you. Our solar lighting towers are designed and built in Australia, which means that they are perfectly suitable for Aussie conditions. The solar lighting towers are extremely efficient and eco-friendly, so you'll be helping the planet and getting the job done all while saving money at the same time. Unlike some other products, our solar lighting towers are very powerful despite being environmentally friendly. All in all, when it comes lighting towers, solar lighting towers are irresistible in the traffic management hire market on the Gold Coast and in Brisbane.
Features of Our Solar Lighting Tower
Fully automated and trailer mounted with a mast up to 6m high, solar lighting towers offer more light where you need it. Perfect for outdoor events, construction sites and illuminating any dark areas, the solar lighting tower offers a great solution for providing security at night. Since they are easy to transport and set up, solar lighting towers can be set to run automatically. They will turn on by dusk and off by dawn without any human intervention whatsoever!
Suitable Uses for Solar Lighting Towers in Brisbane and on the Gold Coast:
Civil work
Traffic control
Construction sites
Mine sites
Night works
Outdoor events
Car parks
Machinery yards
Open spaces
Residential areas
Sports clubs
Other traffic management hire related fields
Download Our Product Brochure
 DIESEL LIGHTING TOWER
The Terra Light ® diesel lighting tower offers 4000W of low glare lighting on a 9m telescopic mast. A sturdy transportable trailer supports the Kubota diesel engine and 7KVA Linz generator. The Terra Light® is suited to open spaces requiring effective lighting, such as roadwork, car parks, mine sites, events & festivals. A Terra Light® will cast the equivalent of daylight up to a 50 meter diameter. As a result, just 3 x diesel lighting towers can light up an entire football field!
Contact us today for all your traffic management hire needs!