ETC Hire specialises in hiring Gold Coast and Brisbane solar street lights which provide a cost-effective, quiet and sustainable lighting solution for all types of events, warehousing, building and construction projects. Our portable street lights range from 5 watts through to 30 watts and are fully automated. We service as far as Ipswich, Toowoomba, Byron Bay and the Sunshine Coast.
Solar street lights can be installed without an electrician
ETC Hire's range of solar street lights are simple and easy to install without an electrician, unlike traditional street lights. With an in-built solar panel and battery, there are also no ongoing running costs. These lights can be mounted to almost anything, depending scope of the project or event and the surrounding environment.
Fully automated to switch on and off automatically
Our Gold Coast and Brisbane portable street lights for hire are fully automated to switch on at dusk and off at dawn. These also have a motion sensor, to provide stronger illumination during operation for anyone passing by on foot or in a vehicle. Being fully automated, these solar street lights are ideal for remote projects, with the functionality to set-and-forget.
Features and benefits of our solar street lights
There are a wide range of features and benefits provided by our solar street lights for all types of building, events, construction, self-storage and warehousing applications. Some of these include: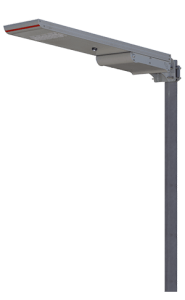 100% solar powered with zero emissions
Fast and efficient installation, without requiring an electrician
Motion sensor for stronger illumination with movement
Inbuilt solar panel and battery for energy storage
5w, 15w, 20w and 30w solar street lights available
Contact our friendly team at ETC Hire today on 1300 382 447 to arrange short or long-term hire of our Brisbane or Gold Coast solar street lights. We offer competitive hire rates, as well as pick up and delivery locally and throughout Toowoomba, Ipswich, Sunshine Coast, Byron Bay and surrounding areas. Find out more about our solar street lights by downloading the brochure below.
Download Solar Street Lights PDF