Solar Surveillance Systems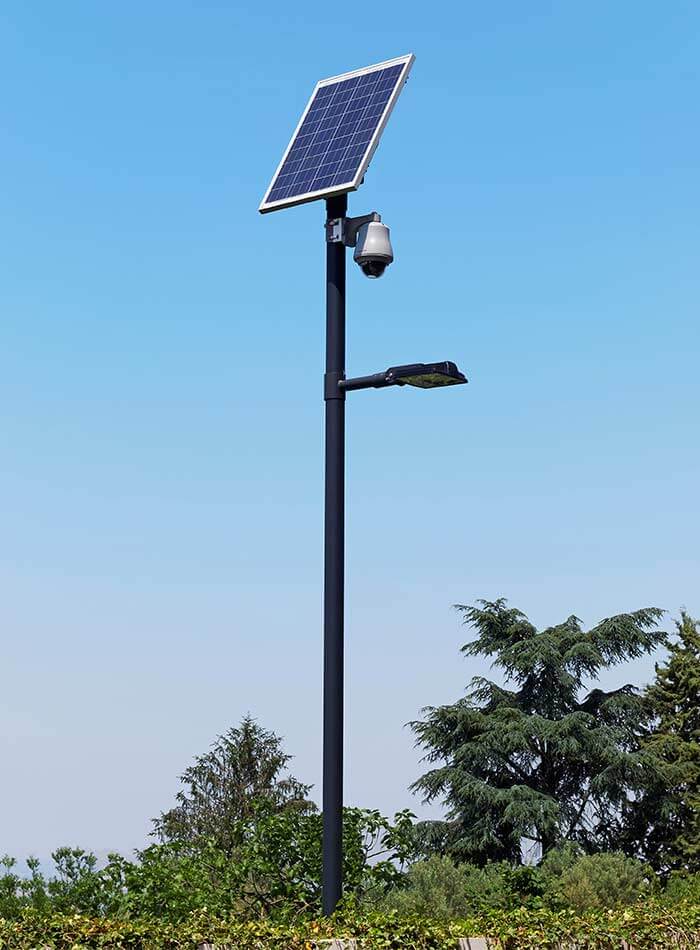 ETC Hire is the Best Choice for Traffic Control Equipment Hire, Including Solar Surveillance Systems on the Gold Coast and Brisbane
Our solar surveillance systems are the perfect cost-effective solution for providing surveillance to events, properties, construction sites or any other place that requires surveillance. Our units are made here in Australia and are 100% solar powered, therefore offering you the highest quality equipment. Because of their solar powered technology, they are entirely wireless and eco-friendly. Since our solar surveillance systems run entirely from the power of the sun, there is virtually no cost for electricity or other power sources! In addition, our solar cams are compact units with immense power. ETC Hire's solar surveillance systems are perfect for monitoring wet days when sites are empty. They are also useful to monitor multiple sites with their efficient and high-quality surveillance system.
Another great feature of our solar surveillance systems is the ability to time lapse! While the solar cam is discrete, it operates with up to 30 motion detectors to cover large areas. Furthermore, you can visually access your property at any time remotely via your smart device. All images are stored to a cloud database and are accessible for up to 30 days. Due to all these great features, solar surveillance systems are very popular in the traffic management hire industry.
Our Gold Coast & Brisbane Solar Surveillance Systems can be hired individually, trailer-mounted, or attached to:
Solar Street Lights
Portable Traffic Lights (to identify red light runners while monitoring road safety)
VMS Boards (to monitor traffic conditions and issue warnings to motorists, e.g. Flood warning)
Solar Lighting Tower
If the system is attached to our portable traffic lights, all movements and red light runners can be monitored. Furthermore, with the system attached to VMS boards, you can monitor all traffic conditions. Providing issue warnings such as: flood warnings up ahead, roads closed and traffic delays, etc. to motorists is also simple and effective. Since you can remotely control the system, you can also monitor what conditions surround or effect roads. Due to this, linking the board to the conditions of the road is just as easy since you can remotely display your new message/symbol from another location.
Benefits of using ETC Hire's Solar Surveillance System on the Gold Coast & Brisbane:
Easy to Use
Remote Login
Data Storage
Motion Detection
Cost Effective
Trailer-Mounted Option
Popular in the traffic management hire market
Download Our Product Brochure
We are proud to announce our newly released Solar PTZ Camera!
Our new solar PTZ cameras are designed and made in Australia to perform at peak levels under Australian conditions. These cameras can run solo or in tandem with almost any other piece of traffic management hire equipment.
The Solar PTZ-CAM is a durable 2 MPixel 4G/WiFi solar powered surveillance camera designed for tough conditions in remote or unattended places. Since this camera runs on solar power, it does not require any other external power source. The images recorded on the camera are dispatched via a 3G/4G modem to a computer, mobile phone, or web based monitoring 'Dashboard'. The camera also has a 'time-lapse' mode which can be used to monitor construction, traffic and water monitoring etc. It can record HD video 24/7 for up to a month before it begins overwriting data. Live video can be accessed at any moment and any video or image of interest can be downloaded or viewed at will. Still images are also backed up on an internal SD card. For sites with more than one camera, only the host camera needs a 4G modem and all the other cameras communicate to the host camera via WiFi. All these features make it a great addition to any traffic control equipment hire store.
Some More Benefits of the Solar PTZ Camera
WiFi enabled autonomous solar powered 3G/4G PTZ camera system with complete integration
100W solar panel protected by durable IP67 weatherproof housing along with adjustable mounts
Perfect for livestock monitoring, traffic cameras, security, flood zone and construction monitoring
Optical Zoom up to 4 times
"Live View" video can be watched on tablets, PCs and mobile phones
Web interface grants full control and configuration of the camera
100% "wire free" solution offers remote monitoring and surveillance
Optional wireless motion detectors can activate the PTZ camera system from distances up to 80 metres
Perfect addition to any traffic control equipment hire set up
Download Our Product Brochure
Contact us today for all your traffic management hire related needs!