Temporary fencing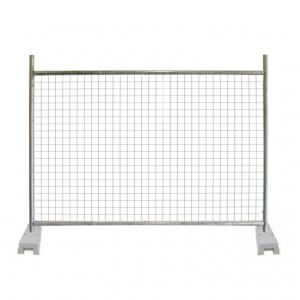 Protective Fencing Hire
We supply temporary fencing for hire locally and surrounding areas.
Our temporary fencing is ideal for construction sites, building, private, sporting and corporate events, festivals, concerts and many more applications.
Temporary fencing is crucial for securing exposed or vulnerable areas to avoid hazardous situations.
For efficient installation and increased safety benefits, we hire mesh fencing panels to secure crowds, equipment, work sites, contractors and the general public.
Additional Fencing Options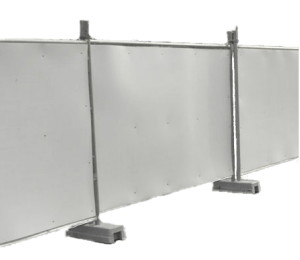 Hoarding Panels
Temporary hoarding panels are manufactured from high density polypropylene.
They offer aesthetic appeal for fencing off events and to completely block out the external area.
Hoarding panels help ensure privacy and exclusivity for enclosing private or corporate events, parties, concerts and many other applications.
Easy to set up and transport.

Crowd Control Barriers
Crowd control barriers are freestanding and very easy to install, which makes these a popular choice for a wide variety of events, such as concerts, festivals and markets.
This type of barrier is also ideal on roads and footpaths for pedestrian containment purposes.
Since the barriers are mobile and light weight, it makes relocation easier.
Fencing Accessories
Shade cloth
The shade cloth can be attached to our mesh panel fencing and provides a privacy screen. It also helps to manage dust.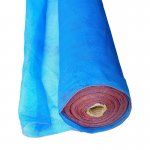 We can also provide printed shade cloth with your company branding to highlight your event or project.
Many colours are available with 70% and 100% block out options.
Brace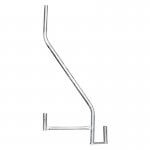 Bracing helps provide additional structural support against wind and is required if shade cloth is added to mesh fencing.
Additional support is also required when banner mesh or scrim is attached to mesh fencing.
Self Closing Gates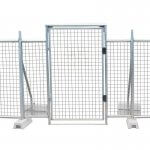 An emergency gate ideal for events and work sites.
It has tension adjustable spring loaded hinges providing security by making the access point self-closing.
Heavy duty reliable design.
Contact us today on 1300 382 447 to arrange hire of our temporary fencing and traffic control equipment.