Radar speed check signs have been scientifically tested and proven to be an effective tool for reducing drivers speed both short and long-term, which is why these are crucial for road safety on the Gold Coast, throughout greater Queensland and Australia-wide. If you consider a pedestrian hit by a car going 40kph has a fatality rate as high as 90%, which is reduced to only 10% if a car is travelling 20kph, the importance of using these signs as a deterrent becomes readily apparent. While these statistics highlight the importance of radar speed check signs for reducing speed and fatalities , there are many other benefits these can provide.
Radar speed check signs monitor and record data, revealing high risk areas
Radar speed check signs monitor and record drivers speed, enabling critical data to be available for local council and police on high risk areas where speeding is an issue. This allows more resources to be allocated to solve this problem, such as further manpower to be allocated or permanent traffic signs to be installed.
Radar speed check signs educate and empower drivers
Another benefit of radar speed check signs is these can educate and encourage drivers to follow acceptable speed limits, without speeding tickets needing to be allocated. If drivers can visibly see they've been speeding, it empowers them to manually adjust their speed. This results in safer roads and drivers being happier, as they don't have to pay an expensive speeding fine.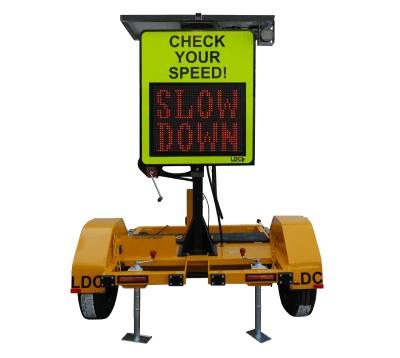 Radar speed check signs help keep contractors safe on civil projects
By installing radar speed check signs, civil and road construction companies can record traffic data highlighting times when drivers are speeding, which they can use to request a police presence. This helps to keep contractors involved in road and civil projects safe during high risk times.
These are some of the many reasons why radar speed check signs are crucial for the future of road safety on the Gold Coast. If you're wanting to hire superior quality, Australian designed and manufactured solar radar speed check signs locally on the Gold Coast, throughout Queensland or Australia-wide, ETC Hire is the answer. We're a leading hire provider of traffic and signal equipment to councils and government departments, property developers, civil construction companies and retail and hire companies nationally. Contact us today on 1300 382 447 for an obligation-free quote.