Portable Traffic Lights
ETC Hire has affordable portable traffic lights available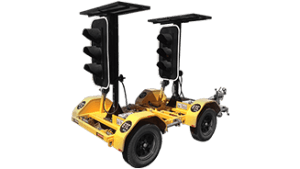 ETC Hire has high quality Australian made portable traffic lights available for hire at competitive rates.
Our traffic lights meet all of Queensland's safety and legal standards, as well as Australian standard AS4191.
These portable traffic lights are designed and made in Australia to suit extreme environmental conditions and provide the highest reliability.
They come trailer-mounted for easy transport to any work site or region.
Portable traffic lights can be used individually or linked with other sets to create larger systems.
ETC Hire is the only company in Australia which supplies pedestrian mode portable traffic lights for hire.
Our range of Brisbane and Gold Coast portable traffic lights available for hire include:
2-Way
3-Way
4-Way
4-Way independent
Features of our Brisbane and Gold Coast portable traffic lights
Our portable traffic lights are solar powered, so there's no ongoing running costs. Additionally, being solar powered means these are eco-friendly with zero emissions. You can choose to hire a single set or multiple sets of portable traffic lights. When multiple sets are linked together, these can efficiently several road systems at once. This improves the visibility and the impact of the message displayed. With nine frequency channels, the portable traffic lights operate in a variety of ways.
These include:
Manual operation
Vehicle triggered
Set by a timer
Radio remote control
Solar powered
Link multiple sets
Quick and easy set up/pack up
Additional Features:
Australian made trailers
Removable draw bars to prevent theft
Gel batteries
24/7 emergency line
Contact us today for a quote on our Brisbane and Gold Coast portable traffic lights and traffic equipment hire.