Portable Traffic Lights
---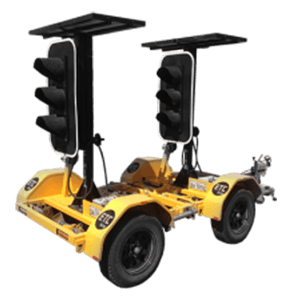 Trailer mounted portable traffic lights
ETC Hire has high quality Australian made portable traffic lights available for hire at competitive rates.
Our traffic lights meet all of Queensland's safety and legal standards, as well as Australian standard AS4191.
These portable traffic lights are designed and made in Australia to suit extreme environmental conditions and provide the highest reliability. They come trailer mounted for easy transport to any work site or region.
Portable traffic lights can be used individually or linked with other sets to create larger systems. ETC Hire is the only company in Australia which supplies pedestrian mode portable traffic lights for hire.
DOWNLOAD PRODUCT BROCHURE  GET A FREE QUOTE TODAY
---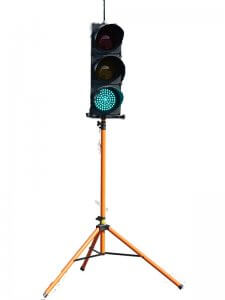 Tripod mounted portable traffic light
Designed to Queensland Transport & Main Roads specifications, the PTL-3 Type-1 PTSS offers improved safety for Traffic Controllers over the traditional Stop/Go sign, meeting all Australian standards, and with many extra unique features.
Fully designed and manufactured in Australia, the PTL-3 Type-1 PTSS is lightweight and very easy to transport and set up, requiring only one person. The unit is mounted on a sturdy foldable stand, able to be positioned off the road out of the traffic. The PTL-3 Type-1 PTSS can be operated as one unit, as a pair for shuttle control or as multiple units, all controlled via one hand controller and one traffic controller. As the PTL-3 Type-1 PTSS is programmed via a hand controller, the whole process of managing traffic is made safer, keeping the Traffic Controller off the road, out of harm's way.
The dual purpose radio remote controller enables programming of the PTL-3 Type-1 PTSS, and pairing of multiple sets of the PTL-3 Type-1 PTSS. Powered by a long-life lithium iron phosphate battery, it features 16 hours of continuous operation time per charge (back-up battery of an extra 50 hours charge available), and can easily be recharged via a 12V or 24V vehicle for on-site convenience, or via an optional battery charger or mains power.
Contact us today for a quote on our portable traffic lights and traffic equipment hire.