Solar Lighting Towers
---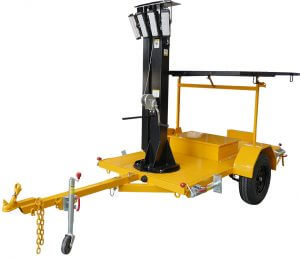 Noise and emission free lighting
We have high quality solar powered lighting towers available for hire for all types of civil, building and construction applications. Our solar light towers (SLT) are Australian designed and engineered, and 100% solar powered, which means no ongoing running costs. The SLT is self sufficient and will operate night after night without noise, emissions or regular maintenance. Our solar light towers will efficiently illuminate your work site, warehouse or factory. The fully automated and trailer mounted light towers have masts up to 6 metres for extensive illumination. Perfect for outdoor events, construction sites and illuminating any dark areas onsite, the solar light towers are ideal for providing security at night. Simple and easy to transport and set up, solar lighting towers can be set to run automatically and will turn on by dusk and off by dawn without any human input required.
GET A FREE QUOTE TODAY
---
Different applications for Solar Light Towers:
Civil work
Traffic control
Construction sites
Mine sites
Night works
Outdoor events
Car parks
Machinery yards
Open spaces
Residential areas
Sports clubs
Other traffic management hire related fields
DOWNLOAD PRODUCT BROCHURE
GET A FREE QUOTE TODAY
---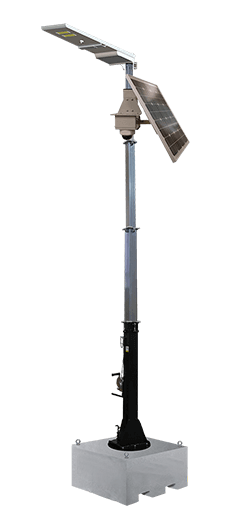 Light, camera or combined units
Each solar street light unit is a fully integrated system with LED lights, batteries and solar panels. The units are available with a stand or mount to almost anything and are very easy to install. Fully autonomous, these lights automatically turn on at dusk and off at dawn. With a range of watts and sizes available, there are solar lighting solutions to illuminate roads, paths, parks, sports fields, warehouses, factories, new developments and industrial premises of any scale. Solar street lights not only ensure driver safety at night, these are also an effective deterrent for thieves, trespassers and other unwanted visitors on your property.
Contact us
today on
1300 382 447
to arrange hire of our light towers.
DOWNLOAD PRODUCT BROCHURE
GET A FREE QUOTE TODAY