There are a few options for promoting your business or event at ETC hire. Each one has different usage scenarios, and combining them all can result in an effective advertising campaign with a wide reach.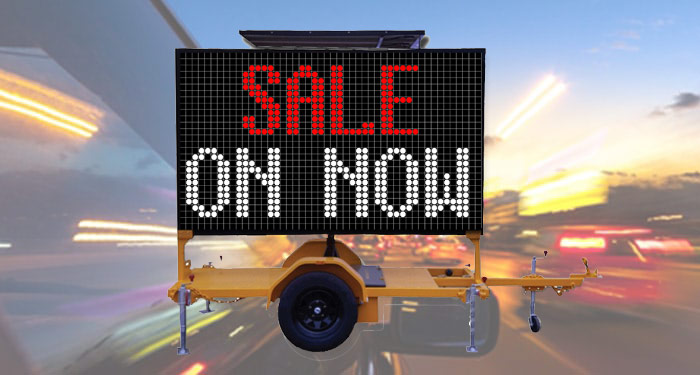 VMS Boards

These boards come in a one colour (amber) or five colour variety. Variable message sign (VMS) boards feature a trailer mounted LED sign which is completely powered by solar power and batteries. As such, they are great for outdoor advertising and are commonly used for events and promotions.
The boards display text messages and can be scheduled in advance. The brightness of LED's helps VMS boards easily be seen even during the strongest daylight hours.
Indoor LED Displays

Indoor LED displays take advertising to the next level by providing high resolution images and video on large screens. Easy to set up and transport, these screens come in at 0.6m wide and 2 metres tall each. If combining 6 units side-by-side, we can achieve a 16:9 widescreen ratio sames as a typical TV screen with a huge 2m x 3.6m display area. Each screen requires mains power access to function and there is minimal setup to combine more than one display.
The bright and vivid image quality is sure to catch the eyes of passing foot traffic and these signs are perfect for shopping centres, retail, real estate and automotive dealers.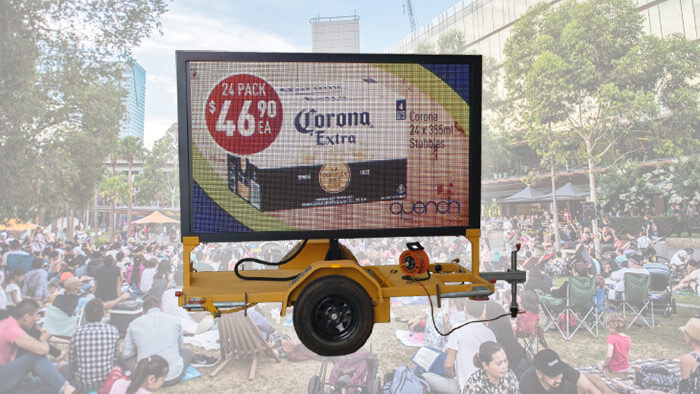 Outdoor LED Displays

Halfway between the VMS board and indoor LED display, the outdoor LED display looks similar to a VMS, but has the display capabilities of the indoor LED. Trailer mounted with a weather proof design, the outdoor LED display also requires access to mains power to function due to its image and video functions.
These signs are used to attract the attention of passing by traffic and are popular at events and storefronts.
Whether you need indoor or outdoor advertising with text, image or video capabilities, ETC Hire has you covered. Contact us for a free quote on any product hire.