If you have a building, civil or construction project to complete and need to hire industrial lighting for security or general lighting applications, here are some of the benefits our Brisbane and Gold Coast solar light towers provide over diesel alternatives.
Solar light towers have no ongoing running costs
When your hire one of our Gold Coast or Brisbane solar light towers, once installed you have no ongoing running costs, as these are powered 100 per cent by solar energy. If you consider that a 12,000 watt diesel lighting tower uses 2.5 litres of diesel an hour while running at a load of 64%, if it's being used around the clock this can add up to as much as 60 litres a day. Not only is this expensive, it also means that the light tower will need to be refueled regularly, which is inconvenient especially if it's located in a remote area.
Diesel light towers require more maintenance than solar
As diesel light towers are powered by a diesel motor, these need to undergo regular maintenance for reliable performance, such as having oil and filter changes. Unlike diesel light towers, our Gold Coast solar lighting towers require minimal or no maintenance, so there's less chance of these breaking down onsite.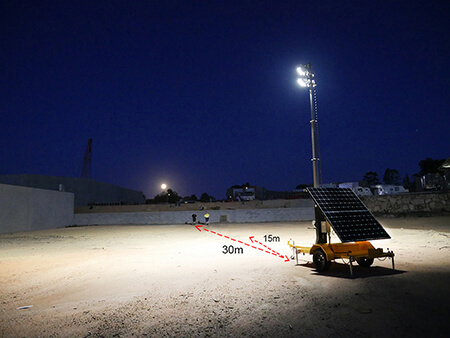 Solar light towers are quiet and have no chemical emissions
Solar lighting towers are a more eco-friendly alternative to diesel, as these have no chemical emissions due to being solar powered. These are also quieter to run, which is important when these are installed in areas that have noise restrictions in place.
We've highlighted some of the many benefits our Gold Coast and Brisbane solar light towers offer over the diesel counterparts. If you're interested in hiring a light tower for your next project, please contact our friendly team at ETC Hire today. We service as far as the Sunshine Coast and Ipswich to Byron Bay and Northern New South Wales. Our rates are competitive and we pride ourselves on supplying high quality, Australian-made equipment.