As a leading hire provider of Gold Coast and Brisbane traffic equipment, we have the capabilities to provide a total solution to ensure contractors, drivers, labourers and pedestrians stay safe during night works. For those working at night in close proximity to traffic, machinery and other hazards, it's crucial that the right equipment is used to avoid accidents arising.
Wide range of traffic equipment for projects of any scope
We are dedicated to providing our hire clients with a wide range of traffic equipment for all types of night works. Whether you require VMS trailers to direct traffic on road conditions, through to portable traffic lights and temporary pedestrian crossings for driver and public safety, we offer a complete solution for your traffic equipment hire needs.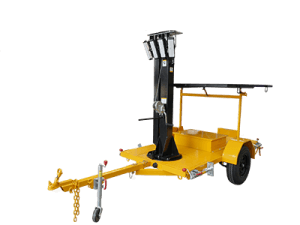 Industrial lighting for night works
It's essential to ensure you have the right industrial lighting for your night works, for the safety of everyone onsite. We specialise in industrial lighting for civil works, road works and construction. Our industrial lighting is 100% solar powered, therefore no ongoing running costs.
Contact us now on 1300 382 447 for affordable hire rates on traffic equipment for night works. Our hire team can tailor an equipment hire package to suit your needs. At ETC Hire we pride ourselves on supplying high quality, Australian made equipment, designed for performance and reliability in all conditions.