At ETC Hire we're dedicated to being at the forefront of the traffic control equipment hire industry, to ensure the highest safety standards are maintained during road and civil works, which is why we've introduced Gold Coast and Brisbane pedestrian traffic lights for hire.  Our hire team also service Ipswich, the Sunshine Coast, Byron Bay and Northern New South Wales. We are proud to be the main hire company in Australia that supplies this mode of portable traffic lights for temporary pedestrian crossings. Our pedestrian traffic lights meet the national safety standard AS4191 and are Australian-made, so quality and reliability is guaranteed.
Pedestrian traffic lights are trailer mounted and solar powered
So that our pedestrian traffic lights are mobile and easy to transport, all units have been trailer mounted. The portable traffic lights are also completely solar powered, enabling 24/7 operation with no ongoing running costs and zero emissions.
High quality LED screen for enhanced visibility
Our pedestrian traffic crossings have high quality LED screens, for superior visibility in all conditions. This also means the lights have a greater impact with pedestrians, ensuring safer navigation of pedestrian crossings where road and civil works are being conducted.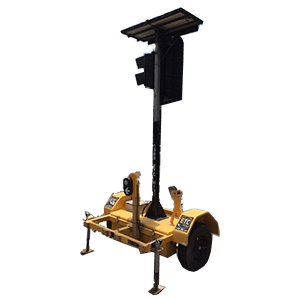 Single and dual lane carriageway compatible
We have portable pedestrian traffic lights available that are configured for both single and dual carriageways, depending on whether you require temporary pedestrian crossings for works on single or multi-lane road systems. Our pedestrian traffic lights will also stay green until pressed, so these won't hold up the regular flow of traffic. When activated, the lights will automatically go red, so pedestrians can navigate the crossing as soon as the light changes and they hear the traffic crossing signal.
Features of our pedestrian traffic lights
Our Brisbane and Gold Coast pedestrian traffic lights for hire offer a wide range of features to ensure pedestrians remain safe while crossing in areas undergoing road or civil works. Some of these features include:
Single & dual carriageway traffic light configuration
Audible traffic signal to identify when pedestrians are safe to cross
Pedestrian traffic lights meet Australian safety standard AS4191
Push button tactile system
Trailer mounted for transportation
Solar powered (no ongoing running costs)
Contact ETC Hire on 1300 382 447 to arrange for pedestrian traffic lights on your next civil or roadworks project in Brisbane, the Gold Coast or surrounding areas.